With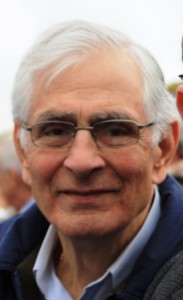 profound grief and sorrow it is informed that Sh. Omkar Nath Dhar (Retired Professor) s/o. Late Anand Joo Dhar of Khan Kai Soktha, Safa Kadal, Srinagar left for his heavenly abode on 10 June 2013 in Windsor, Ontario, Canada.
Professor Dhar was a man who touched the lives of many people across the world with his generous warm passionate heart for all people who came across his path.  He gave openly of himself to all those who needed him.  He was the youngest of six children and early on he developed an independent spirit that loved to explore the world yet retained a deep seated love for his home and extended family in Kashmir.  He travelled across Europe and finally this spirit led him to leave his native Kashmir and move to Nigeria in 1961 with his young family.  Soon Nigeria was engulfed in a civil war which forced him to escape with his family with nothing but a pair of suitcases.  His determination overcame this loss when he moved to Halifax, Nova Scotia, Canada in 1967 to begin all over again.  He raised three children, got them married and was proud to have seven wonderful grandchildren that he doted over all the time.  He was also blessed with a great-grandson who is only one year old today.   Recently he and his wife moved to Windsor, Ontario.
Prof. O.N. Dhar was man who had a passion for working, teaching and mentoring children.  He first taught at SP College in Srinagar, Kashmir and at the same time built a very busy and successful private teaching practice.  His students from SP College days always fondly remember his passion and ability to bridge the barrier between teacher and pupil.  He left Kashmir and migrated to Nigeria to teach at St. Patrick's College for five years, until he had to flee the civil war raging in Nigeria in 1967.  With only a $1000, he landed in Canada with his family to teach in the Halifax County School System for the next 21 years, retiring in 1988.
Retirement for him was filled fulfilling his passion of golf, travel and his grandchildren.  Every summer he hosted all his grandchildren in Halifax and made sure they returned to their parents richer with love for each other and of being part of a larger family.  This is reflected in the strong bond the grandchildren share today with each other as young adults. He split his time between doting on his grandchildren and travelling to India.
Even though he spent the past 52 years outside Kashmir, his heart was that of a true Kashmiri.  He longed to return back to his Kashmir homeland.  As the youngest child in his family, he was the beloved "Bhaisahib" to all his nieces, nephews and their children and grandchildren.  For the past 25 years he assumed the role of patriarch of the Dhar family, started by his father.  His role as patriarch meant travelling across the country visiting and keeping contact with all his multi-generational extended family.  There are innumerable instances to mention about his love, value for relationships and above all maintaining them, at any cost. Today, this extended family mourns the loss of the man who united the family across all generations with his love and affection to all of his and his sibling's families.  He was Grandpa, Bhaisahib, Mamaji, Dad, Womatoth and most of all he was a loving husband to his wife of 60 years.
Online condolences can be shared on a special memorial page at http://www.dhar.org in honor of Omkar Dhar, where visitors can share their thoughts on how he touched their lives. The family can be contacted at omkar_memorial@dhar.org
Viewing will be on Thursday 13 June 2013 from 10:00am to 11:00am at Victoria Green Lawn Memorial Gardens & Reception Centre, Windsor, Canada. Following that the family will be performing the traditional Hindu puja and a private cremation.
Professor Dhar leaves behind his loving family:
Raj Dulari (wife of 60 years)
Neelma and Virender Bhan (Daughter and son-in-law)
Sunil Dhar and Renuka (Son and wife)
Anil Dhar and Heemal (Son and wife)
Vineet Bhan and Nishi (GrandSon and wife)
Nikhil, Amrit, Aneesh, Ankur, Anmol and Himani (Grand-Children)
Viraj Chandra Bhan (Great Grandson)